Prizes, Hunting Tips, & a Wild Game Dinner!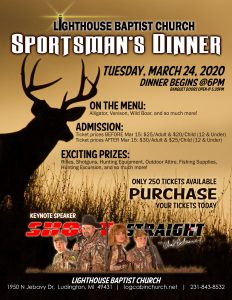 Keynote Speaker is Chad Schearer of Shoot Straight TV. You will greatly enjoy hearing him share some hunting stories and advice while also giving practical principles to help us keep a balance in our lives.
On the Menu:
Alligator, Venison, Wild Boar, and more!
The meal never disappoints, and we are adding even more wild game this year. The menu will include alligator, venison, and wild boar! Throw in all the sides and appetizers and then finish it off with a massive slice of dessert! You know you're already getting hungry.
Admission:
Ticket prices BEFORE March 15, 2020:
$25 per adult;
$20 per child age 12 & under
Ticket prices AFTER March 15, 2020:
$30 per adult;
$25 per child age 12 & under
There are only 250 tickets available so purchase your tickets today.
And don't forget that your ticket enters you in the drawing for every single prize- including  shotguns, rifles, hunting clothing, accessories, and many others! We'll have a special gift this year for every military service member who attends as well.