Prizes, Hunting Tips, & a Wild Game Dinner!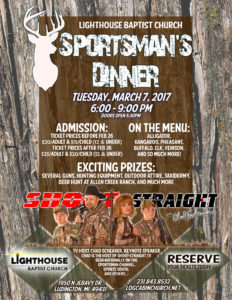 We are excited to welcome back special guest Chad Schearer of Shoot Straight TV!
On the Menu:
Alligator, Kangaroo, Pheasant, Buffalo, Elk, Venison, and more!
Admission:
Tickets before February 26:  $20/Adult & $15/Child (12 & under)
Tickets after February 26: $25/Adult & $20/Child (12 & under)
Purchase your tickets by clicking on "Give" in the top menu and clicking on the "Donate" button.